Eyeglasses





















Sunglasses
When choosing the right sunglass for your lifestyle our staff are here to help! The lenses in your sunglasses should always offer 100% UVA & UVB protection. We offer a variety of sunglass brands with different lens tints, colours and mirrored coatings for your needs. For example, different tints can aid in clarity and contrast for certain sports and lighting conditions such as golf, fishing, or biking!









Specialty Frames
We carry the following industrial safety and sports frames:




Ophthalmic Lenses
We are proud to use the highest quality lenses by Hoya. Our knowledgeable and helpful ophthalmic dispensers will discuss with you the best lens options for your lifestyle, occupational or safety needs. Choices include lens material (plastic, trivex), lens design (single vision, bifocal, trifocal, progressive, anti-fatigue), and coatings (anti-reflection, anti-scratch).
We also offer specialty lenses for computer/office work, and lifestyle or occupational lenses tailored just for you. Hoya offers Recharge EX3 & TrueBlue lenses designed to block out harmful blue light which is emitted by computer screens and fluorescent lights.
In addition to the well known Transitions brand, Hoya also exclusively offers the new Sensity Photochromic tint line in grey, brown, green and mirrored styles.
MiyoSmart lenses by Hoya are now available at our clinic. These special lenses incorporate a new DIMS technology (Defocus Incorporated Multiple Segments) and have been shown to reduce progression of nearsightedness in children and adolescents by 60%.
Contact Lenses
We offer many different kinds of soft contact lenses for all types of refractive error, including toric contact lenses for astigmatism and multifocal contact lenses for presbyopia. MiSight daily disposable soft contact lenses are now available through our clinic and are a great option to help slow the progression of your child's nearsightedness by up to 60%! It is currently the only on-label treatment for myopia control available in Canada.
Rigid gas permeable and scleral contact lenses may be prescribed by our optometrists to improve vision in patients with corneal pathology, such as keratoconus and Pellucid Marginal Degeneration.



Low Vision Devices and Aids
We provide low vision services as part of our full service eye health care. The goal is to help those with low vision overcome the handicapping effects of their visual impairment. Our care is based on individual lifestyle needs and solutions will be sought to help each patient achieve their visual goals. We carry a variety of lighted handheld magnifiers, head-born magnifiers, electronic magnifiers and other low vision aids to assist in daily living.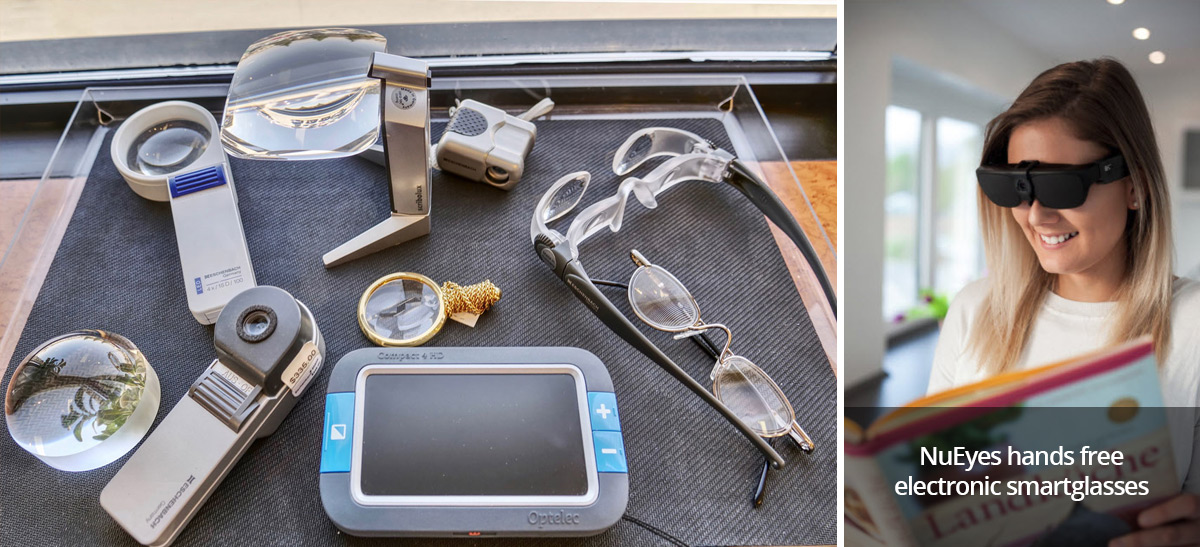 Other Products
We retail a wide variety of products for dry eyes including preservative-free artificial tears, lubricating gels and ointments, eyelid cleaners, premium and conventional masks for hot compresses, and Triglyceride Omega-3 supplements.We carry Vision Essence brand eye vitamins that are based on the AREDS II study to help reduce the risk of progression of macular degeneration. We also carry Latisse, a product which stimulates the growth of thicker and longer eyelashes.